Contract Management
Nexdigm Contract Management Services
Contracts are the key to strong business relationships. Nexdigm helps teams from the procurement, legal, finance, and M&A departments strike the right balance between expediency and business risks. Our experienced attorneys are capable of aligning multiple stakeholders while providing an integrated view of commercial as well as legal aspects.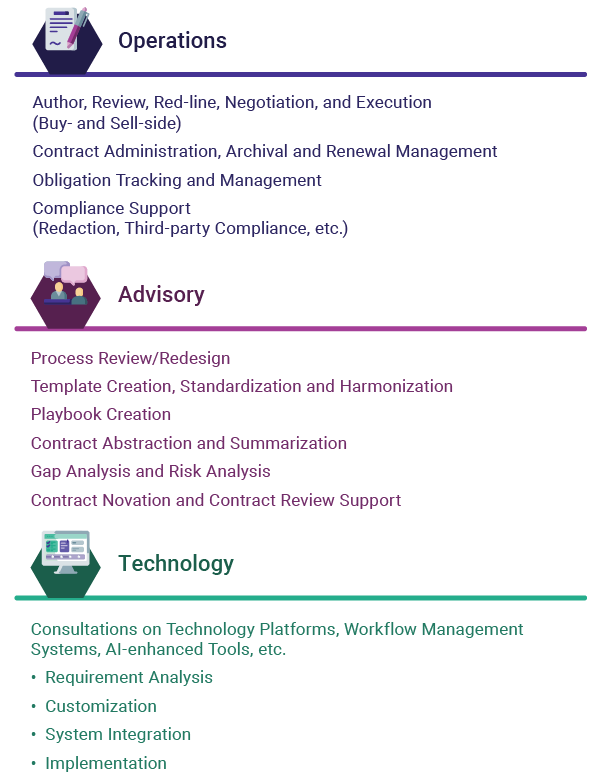 Nexdigm can help you reduce your contracting costs and elevate the experience of all stakeholders involved by standardizing processes, choosing the right technology, and leveraging our wealth of specialized knowledge.
At Nexdigm, we approach contract management as an end-to-end process. In fact, we recognize that every contract has a lifecycle, and needs to be managed at every stage of that cycle. Our contract management services can radically change the way you manage contracts and contracting, thereby effectively managing risk without, in any way, sacrificing business need and urgency. We help you develop standardized templates for different contract types and playbooks that provide guidance for all foreseeable negotiation situations. These enable quick turnaround of contracts and at the same time ensure that contract risks remain within defined boundaries.
When you choose Nexdigm as your delivery partner to provide a fully managed service, we not only set up the contract management system, we also write your large volume, template driven contracts, negotiate them within the boundaries authorized by you, get them executed and archive them for future retrieval and renewal. This frees up your in-house legal team for more complex work and strategic initiatives.
The bottom-line is that your senior leadership is assured of a structured framework for initiating, signing, and maintaining commercial contracts without losing the flexibility of doing business.