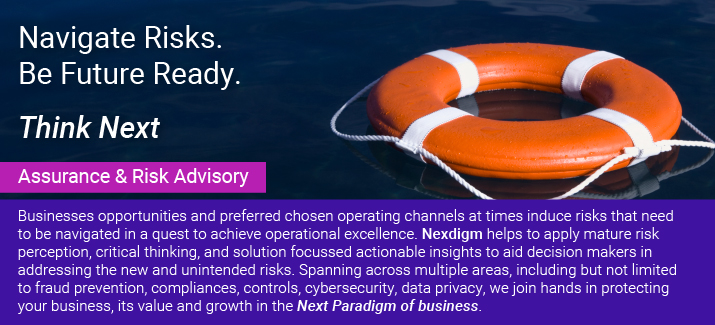 Assurance and Risk Advisory
As businesses expand their operations, there is an increased focus on good governance and risk management in order to protect and create value for all stakeholders. Good corporate governance, strong risk management policies and a comprehensive compliance framework provide accurate and timely information to the management; thus, adding business value by improving operational decision-making and strategic planning. We review an organisation's existing governance policy and help strengthen it.
Alongside, every organisation has various risks that must be assessed and managed in order to meet its goals and objectives. We assist the management in identifying and assessing gaps with respect to external, internal, regulatory and compliance risks in critical processes. We then help design systems to mitigate such risks and monitor progress. Compliance with applicable laws and regulations must also be ensured.
In addition, with increasing frauds in the business world, forensic reviews play an important role in monitoring and responding to potential risks. With access to forensic technology, we employ creative thinking and intelligent software to come up with future trends, analytics and actionable intelligence. We also support organisations in identifying the root cause, impact and perpetrators of fraud.
Forensic Services
Today's competitive business climate and dynamic market environment provide numerous threats of fraud and ethics violations. With the growing global need for transparency, incidents of fraud and violation of ethics could impact businesses in their revenues and reputation. These incidents of fraud and non-compliance may include misreporting, misappropriation/theft, abuse of authority, falsification, conflict of interest, breach of contract, third-party frauds (including vendor, supplier, dealer, customer and business partner), kickbacks, or other regulatory non-compliances.
At Nexdigm (SKP), we support businesses with strategies and measures to combat and minimise fraud including providing a fact-based investigations report for management action. The measures adopted by us are driven by a structured fraud-control framework developed by our team of trained professionals and Certified Fraud Examiners (CFEs) with experience in forensic accounting, fraud investigations/examination, digital forensic reviews and control reviews. We can help gather specific evidence around ethics- and compliance-related issues. Our services include:
Enhance whistle-blowing
Improve policy: Formulate or improve an organisation's whistle-blowing policy in line with global best practices in order to influence genuine whistle-blowers.

Increase awareness: Help create awareness on whistle-blowing with training sessions, periodic internal communication, ethics-related posters, etc.

Effectiveness assessment: Code of conduct and whistle-blowing policy awareness assessment surveys and interviews to evaluate the effectiveness of the whistle-blowing mechanism.

Support in investigating concerns
Investigations: Gather evidence in whistle-blower investigations or any suspected concerns or policy violations, and identify the perpetrator and quantify frauds to the extent feasible. The approach is to gather evidence from documentation, data (both ERP and other application/maintained data), digital records and information available in the public domain. This includes forensic accounting, investigations that involve detecting fund diversion to vendors or third-party kickback investigations. In select cases, we even engage document examination experts to validate signatures or the age of the paper used for a contract.

Digital forensics: Conduct digital forensic reviews (desktop, laptop and mobile forensic), including imaging, extraction and analysis of the digital information from company-owned assets using the appropriate tools and technologies. The reviews will include gathering evidence including emails, user-created files, meta data, registry information, system log and application process data among others.

Desktop background checks: Conduct desktop background checks for corporates and investors on the target and its promoters, including litigation searches (e.g. if convicted of bribery or another criminal offence), negative media searches and regulatory searches (debarred entities/individuals).

Anti-corruption compliance investigations: Assist in investigations with reference to anti-corruption compliance (Foreign Corrupt Practices Act (FCPA) and UK Bribery Act (UKBA).

Pre-investment anti-corruption due diligence: Conduct anti-corruption compliance reviews on behalf of a parent company or due diligence on the target on behalf of investors based on a proprietary scoring model to enable meaningful decision-making.

Site visit and mystery shopping: Conduct a site visit or mystery shopping to validate the existence of and/or gather information on a particular practice/non-compliance.

Contribute to fraud prevention/minimisation measures
Fraud vulnerability assessment: Conduct vulnerability assessments of fraud risks in select processes (including red flags, vulnerabilities and control gaps) for enabling appropriate control mitigation strategies.

Fraud risk assessment and scoring: Conduct comprehensive fraud risk assessment of identified processes and score risks based on the existing level of mitigating controls.

Fraud analytics dashboard: Develop and deploy a rule-based fraud analytics dashboard for select processes, for periodic monitoring of control lapses. We use select tools for analytics (like IDEA Data Analysis) to analyse large volumes of data and identify select patterns/exceptions.

Set up a Fraud Control Unit
Develop a robust concern-handling process: Support in reviewing trends in case closures and actions taken to identify opportunities for enhancing the concern-handling process or investigator efficiency.

Enhance governance mechanism in investigations: Support in enhancing the governance mechanism in investigations with a structured framework, standard operating procedure and communication protocols.

Fraud reporting: Support in structuring protocols for reporting fraud and ethics violations.

Other services
Knowledge-sharing sessions: Conduct knowledge-sharing sessions or workshops on investigation techniques and case studies.

Co-source resources for investigations: Support the investigation team with trained resources based on specific requirements for case closure.

Nexdigm (SKP) Forensic Services
Nexdigm (SKP) Forensic Insights app provides the latest publications, videos, tips and presentations along with forensic news from across the globe. Our aim is to keep users aware, informed and alert about incidents of fraud and non-compliance and support businesses in their efforts to minimise fraud and corruption.

Governance
Good governance involves the implementation of good practices, policies and procedures in your organisation. It reflects the culture of the management – it is the overall approach that the management team has towards the functioning of the organisation. Our services include reviewing the following:
Financial Governance

Policies
Processes/SOPs
Reporting Framework

ERP Implementation Support/Assistance in Customisation
Legal Governance
Risk Management and Compliance
Nexdigm (SKP) assists in identifying, assessing and managing risks that may affect an organisation's business goals. Different organisations may perceive these risks differently but it is essential to have a system for identifying and responding to them. Organisations must also act in compliance with laws, regulations, contracts as well as internal policies.
We focus on the following areas under the Risk Management and Compliance function of an organisation:
Risk-based Process and Internal Controls Review
Revenue Assurance
Compliance with SOP
Forensic Services
Tax Risk Management
Clause 49 Review – Corporate Governance Review as per listing agreement
Direct and Indirect Tax Compliance
Secretarial and Company Law Compliance
Foreign Corrupt Practice Act (FCPA) Review
Assistance in SOX Readiness
UK Bribery Act Review
KYC and Anti Money Laundering Compliance Review
Any other key regulatory compliance