Program Management/Business Consulting
Our project management services are designed to provide end-to-end functional support and ensure its successful and timely completion. The Nexdigm advantage is that we provide holistic solutions covering the key areas of business including:
Pre-investment Support
This includes market analysis, business feasibility, competition mapping, incentive identification as well as location planning to help companies understand the crucial aspects of setting up a business.
Finance & Regulatory
This includes support in Capital Structuring, CFO services, Budgeting and Forecasting, Incentive Support, Bank Loan Syndication, Project Accounting, Tax and Secretarial compliances, and more.
On-site Support
This includes on-site team deployment for Vendor identification (Construction, MEP, PMC, Machinery Installation Company, etc.), liaising with various stakeholders, project monitoring and reporting of on-ground operations including aggregation of reporting from the PMC company.
Other Services Management
This includes supporting in machinery procurement, IT setup & Risk Advisory, HR recruitment and policy support, and more.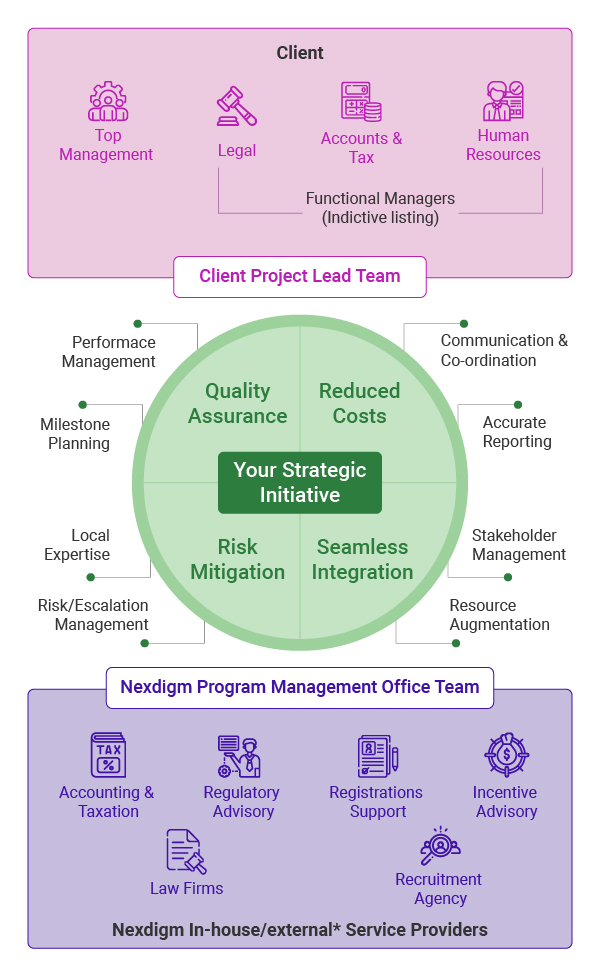 Business Feasibility Study
We assess the current market scenario, customer trends, competition, economic viability and regulatory aspects to ascertain whether your investment will be sustainable and profitable.
Business Plan Support
Business plans help in structuring a company's long-term goals and key milestones to be achieved in line with their objectives. While creating a business plan, we consider costs, tax and regulatory laws as well as strategic initiatives.
Incentives
Knowledge regarding incentives and how to avail them can be a key differentiator when measuring profitability. Several types of incentives are available including capital grants, exemptions, tax/cost reimbursements, utility tariff reduction, etc. These may vary on the basis of country, sector, employment generation, etc. Nexdigm also helps by directly liaising with government authorities to obtain the incentives for your company.
Incorporation of an entity
Nexdigm can help you plan for your incorporation by choosing an entity type that best suits the operational and administrative goals. Each entity form has a different set of regulations, tax based compliances and legal liabilities. We help you navigate these complexities to drive value for your company.
Location Planning, Scouting, and Acquisition
The location of a set up has several implications on the future of a business. A number of factors need to be considered including proximity to customers/suppliers, availability and cost of manpower, accessibility of electricity, water, etc. The location also forms a key consideration due to local regulatory and taxation regimes. We help assess these factors and support in the implementation by liaising with government authorities.
Registrations & Approvals
When it comes to business setups, approvals and regulations are crucial. Registrations would include Business Regulations and Factory Regulations. We help obtain these registrations to ensure the project is completed on time and operations can begin according to plan.
Advisory and On-going support
We provide regulatory, legal, tax, and HR assistance along with project accounting support. Our other ongoing services include accounting, book-keeping, direct and indirect tax compliances, company secretarial services, audit and assurance services, and regular incentive evaluation.