Economy
India is the third-largest economy in terms of Gross Domestic Product (GDP) based on Purchasing Power Parity (PPP). India has been one of the fastest-growing economies over the last decade.
The service sector has been driving economic growth in India, accounting for 56.60% of Gross Value Added (GVA) growth (at constant prices), followed by the industry sector with a 28.80% share, and agriculture accounting for 14.60%.7 However, agriculture still has the largest share in employment (approximately 42% of the total workforce).8 .
Many new initiatives have been taken up by the government to facilitate investment and ease of doing business in the country. Some of the noteworthy initiatives are Atmanirbhar Bharat, Make-in-India, Invest India, Startup India, and Digital India, among others. Furthermore, to combat the economic catastrophe of COVID-19, the Government of India announced a stimulus package amounting to INR 21 trillion ( ~10% of India's GDP) to boost economic growth.
India's global ranking of 'Ease of Doing Business', as published in the World Bank Group's Doing Business 2020 study, has risen by 14 positions to the 63rd rank in 2019 due to a slew of reforms and initiatives introduced by the government.9 The current businessfriendly government's policies are expected to accelerate foreign investments as it aims to:
Revive growth by fueling investments in infrastructure and manufacturing
Promote Foreign Direct Investment (FDI) in key sectors
Promote the Public-Private Partnership model in critical sectors such as healthcare, defense, and others
Open up all sectors (strategic and non-strategic) to the private sector with public/state-owned facilities only in strategic sectors
Introduce administrative and policy reforms to expedite project implementation
Have a stable, predictable, and investor-friendly taxation regime
Increase transparency and establish systems to eliminate corruption
Strengthen and expand India's trade network with regional, bilateral, and multilateral trade agreements
Develop human resources within the country to match the industry's fast-changing needs
The growth of India's economy in the latter half of 2019 was held back by sector-specific weaknesses in the automobile, real estate, and banking sectors due to the general weakening of the supply side, as well as slow fixed capital formation. Industrial productivity was further arrested since the beginning of 2020 due to the COVID19 pandemic, which led to a nationwide lockdown and disruption in supply chains around the world. Recovery post the pandemic is expected to be gradual, due to the continued social distancing norms and a slow multiplier effect of the liquidity infusions in the economy. However, the new initiatives, policies, and regulations are expected to augment current capabilities.
Real GDP Growth in India: 2009–2021

Foreign trade : India's services sector registered an export of USD 220.73 billion in FY 2019-20 from USD 208 billion in FY 2018-19, with an annual growth of 6.1%.10 India's goods sector registered a decline of -5.11% in exports from USD 330.07 billion in 2018-19 to USD 313.22 billion in FY 2019-20.11
India's services sector registered an import of USD 140.65 billion in FY 2019-20 from USD 126.10 billion in 2018-19, with an annual growth of 11.5%. India's goods sector registered a decline in imports of -7.8% from USD 514.08 billion in FY 2018-19 to USD 473.99 billion in FY 2019-20.
India's top export commodities12 include mineral fuels and oils, gems and jewelry; textiles and apparel; nuclear reactors, boilers, machinery, and mechanical appliances; chemicals; vehicles and parts and accessories; iron and steel; pharmaceuticals; electrical machinery; and cereals. These account for more than 65% of India's exports.
Foreign Direct Investment (FDI): According to UNCTAD's World Investment Report 2020, India is the eighth-most preferred destination for FDI, with growth in FDI inflow over 20% from USD 42 billion in 2018 to USD 51 billion in 2019.13
From April 2000–March 2020, cumulative FDI inflows into India stood at USD 680.919 billion. FY 2019-20 witnessed FDI equity inflows of USD 49.98 billion, registering a rise of 13% over FY 2019-2020 which witnessed USD 44.37 billion in equity inflows.14
Annual FDI Equity Inflows into India: Financial Years 2006-07 to 2019-20

Country-Wise FDI Equity Inflows: 2019-20
From April 2000 to March 2020, cumulative FDI equity inflows from Mauritius stood at USD 142.71 billion, making it the largest source of FDI into India. During FY 2019-20, Singapore was the top investor with USD 14.67 billion, followed by Mauritius, Netherlands, the USA, Cayman Islands, Japan, France, UK, Cyprus, and Germany.15. It is pertinent to note that some of the key countries mentioned here are favorable jurisdictions to make investments into India.
Sector-wise FDI Equity Inflows: 2018-19
Considering sector-wise inflows, the services sector attracted the highest amount of FDI in India and accounted for 17% of the total inflows from April
Sector-wise FDI equity inflows (April 2000 - March 2020)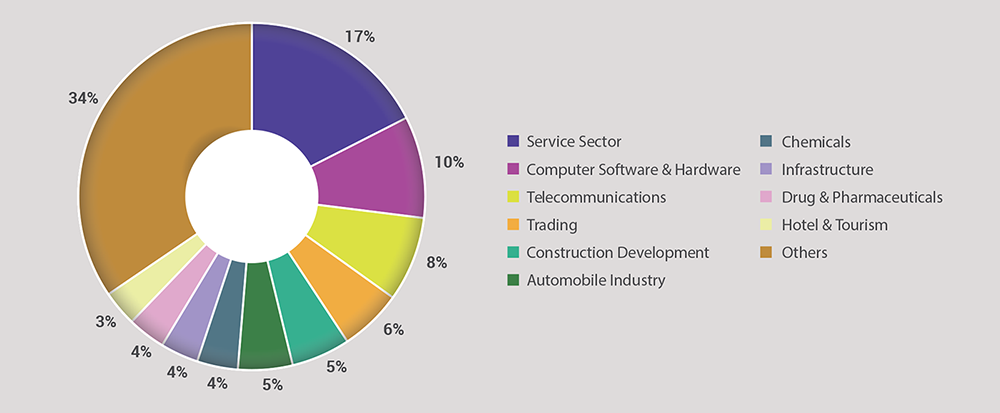 Source : Department of Industrial Policy & Promotion, FDI Statistics,April 2000 to March 2020.
2000–March 2020. In FY 2019–20, the services sector continued to receive the highest amount of FDI equity inflows followed by computer hardware and software, trading, telecommunications, hotel & tourism, automobile industry, construction (infrastructure) activities, chemicals, construction development, and the drugs & pharmaceuticals sectors in that order.16
Foreign Exchange Reserves
As of 21 August 2020, India's foreign exchange reserves stood at USD 537.55 billion.
Country-wise FDI equity inflows (April 2000 - March 2020)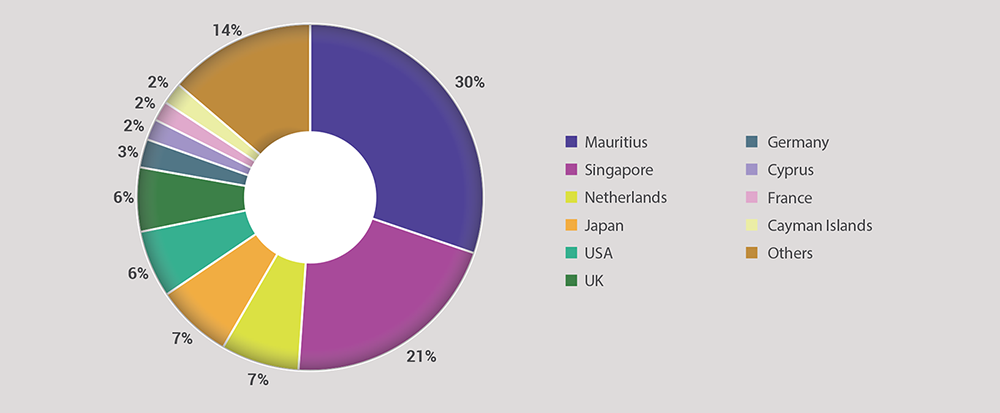 Source : Department of Industrial Policy & Promotion, FDI Statistics,April 2000 to March 2020.
7.

National Account Statistics 2020, Ministry of Statistics and Program Implementation, http:// mospi.nic.in/publication/national-accounts-statistics-2020, accessed on 30 August 2020

8.

Employment in agriculture (% of total employment), World Bank Data, https://data.worldbank. org/indicator/SL.AGR.EMPL.ZS, accessed on 30 August 2020

9.

Doing Business 2020 Report, World Bank, https://www.doingbusiness.org/en/reports/global-reports/doing-business-2020, accessed on 30 August 2020

10.

Monthly Press releases on India's international Trade in Services, RBI https://www.rbi.org.in/ Scripts/Pr_DataRelease.aspx?SectionID=352&DateFilter=Year , accessed on 30 Aug 2020

11.

Export Import Data Bank, Ministry of Commerce & Industry, https://commerce-app.gov.in/ eidb/default.asp, accessed on 30 August 2020

12.

Ibid

13.

World Investment Report 2020, UNCTAD, https://unctad.org/en/PublicationsLibrary/wir2020_ en.pdf, accessed on 30 August 2020

14.

FDI Statistics, Department for Promotion of Industry and Internal Trade, https://dipp.gov.in/ sites/default/files/FDI_Factsheet_March20_28May_2020.pdf, accessed on 30 August 2020

15.

Ibid

16.

FDI Statistics, Department for Promotion of Industry and Internal Trade, https://dipp.gov.in/ sites/default/files/FDI_Factsheet_March20_28May_2020.pdf, accessed on 30 August 2020

17.

Weekly Statistical Supplement, Reserve Bank of India, https://www.rbi.org.in/Scripts/BS_ViewWssExtractdetails.aspx?id=50273, accessed on 30 August 2020