Intelligent Automation & Accelerated Analytics (
ia

3)

The absolute amount of data generated by businesses every day is unparalleled. CFOs prefer if their company's revenues are positively influenced by business intelligence automation that utilizes this data to inform and support each and every stress point of the company's financial structure.

Nexdigm's IA3 services help businesses in all industries identify and capture value from their data and transform it into competitive advantages. We data-mine, data-analyze, and streamline all functions, including Marketing, Procurement, Finance, Operations, Risk, Human Resources, Sales, and Manufacturing.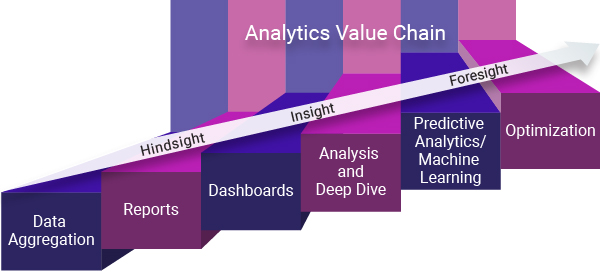 Our global team of consultants, data scientists, engineers, and analysts possess the technical and industry-specific expertise to enable these data analytics solutions. We deliver insights and value for clients through a wide range of models and tools, providing one-off, transformational, and evolving analytics solutions. Using analytics has become a strategic imperative, leading to fundamental changes in the way a business is run.
Effective use of data and analytics can lead to:
Enhanced profitability
Revenue Growth
New Business Models
We help our clients in their transformational journeys by developing and delivering value-based solutions using analytics and intelligent automation technologies across business verticals.
In line with our vision of providing analytics consulting services that work, we conduct a detailed assessment of our clients' businesses. We design solutions that are intricately customized to their needs, which may include:
Intelligent Automation and Accelerated Analytics (IA3) is one of our newfangled data analytics services that helps generate value from a company's data at a sustainable rhythm. We use advanced analytics and machine learning as crucial transformation methodologies to modify your existing processes. Nexdigm's intelligent automation services enable revenue recognition, augmentation, and cost rationalization for clients all across the board. Our targeted solutions include Data Analysis & Insights, Data Engineering, Data Visualization, and Data Science.
Sales and Distribution Data Management Analytics
Intelligent Automation and Accelerated Analytics Accounts Receivables