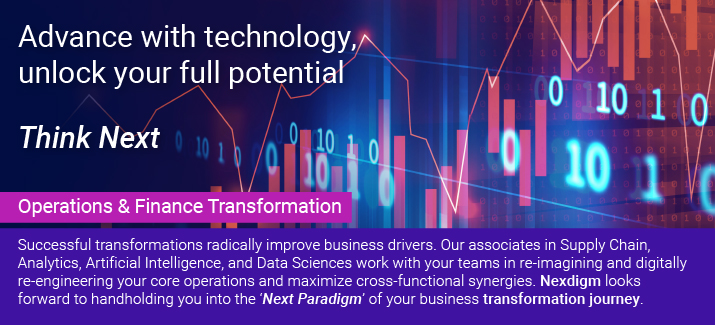 Transformation
Nexdigm (SKP)'s Business Transformation practice helps clients identify fundamental changes required in their organization, to help cope with shifts in the dynamic market environment. The last decade has seen significant changes in the way business is conducted, driven by data and technology. To remain competitive, it is crucial for organizations to optimize their core operations, maximize cross-functional synergies and improve key indicators.
Our team's expertise in areas like Supply Chain, Analytics, Artificial Intelligence, and Data Sciences enable us to provide services customized to an organization's individual needs.
Nexdigm (SKP) helps you gain the maximum value out of your existing business.
Centre of Excellence




Nexdigm (SKP)'s Center of Excellence (CoE) services aim to provide globally sourced and locally relevant solutions that help clients achieve and sustain business excellence in a dynamic global environment.




Supply Chain




Nexdigm (SKP)'s Supply Chain practice helps clients be more competitive by keeping costs down and improving efficiency. Nexdigm (SKP) brings its expertise in advising companies to develop solutions that push the boundaries in this rapidly evolving, critical business function..


Intelligent Automation And Accelerated Analytics (IA3)


Nexdigm (SKP)'s customized AI solutions use data from multiple sources within the organization to extract insights which have transformational value. We help clients automate their decision-making processes.