Intelligent Automation And Accelerated Analytics (ia3)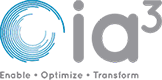 "Nothing is too complex to solve - it is a journey to find value from Data"
Advanced Analytics, including Machine Learning and Artificial Intelligence, is leading the next wave of disruption. Using Analytics has become a strategic imperative, leading to a fundamental change in the way a business is run. Businesses are capturing an increasing amount of data which they can analyze using the massive computational power that is available today. Effective use of data and analytics can lead to profitability enhancement, revenue growth, and in some cases, the creation of new business models altogether.
At Nexdigm (SKP), we help our clients in their transformational journey by developing and delivering value-based solutions that use analytics and intelligent automation technologies, which can be implemented across business lines.
Our solutions create value in multiple facets of businesses, which include:
Revenue growth
Cost rationalization
Increased profitability
In line with our vision of providing 'solutions that work', we conduct a detailed assessment of our client's businesses. This helps us design solutions that are intricately customized to their needs, which includes:
Creation of Analytics Roadmap
Analytics Centre of Excellence
Process Optimization using Analytics
Preparation of Dynamic Dashboards with Business Insights
Data Management
Our team has experience across industries, including Healthcare, Food Processing, Telecom, Retail, Insurance, CPG, Banking, among others. We have supported clients across functions like Customer Relationship, Marketing, Sales, Operations, Risk, Finance, HR, etc.
You can also check out a series of articles written on 'All you need to know before setting up Business Analytics in 2021' by our Analytics expert.