Mergers, Acquisitions, Divestitures & Restructuring
Inorganic growth can provide a much-needed boost to a company's capabilities. However, India can be a challenging environment for concluding deals, and it is essential that these opportunities are handled with great care and expertise.
One of the greatest impediments to a successful transaction is failing to identify the correct partner. We believe that successful deals are those that result in a win-win situation for all parties involved. With this in mind, we assist our clients in assessing a business's strategic fit by evaluating potential synergies that would catalyze the achievement of long-term business objectives. Our strong multinational client base and association with trade bodies and global networks gives us a strategic edge that augments our ability to identify a suitable partner.
Equally crucial for the transaction's success is the collective execution of all activities across its lifecycle and the skills to discover the missing pieces. With extensive experience in cross-border deals and a thorough understanding of ground realities, our multi-faceted team's holistic approach ensures seamless end-to-end execution of transactions with various objectives, such as mergers and acquisitions, joint ventures, management buyouts, divestitures, spin-offs, and strategic alliances.
Transaction Lifecycle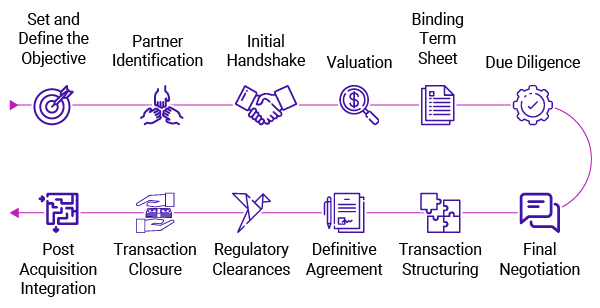 Mergers and Acquisitions
While acquiring an existing business that meets the requisite parameters can accelerate the growth of a company, careful selection of the target and thorough negotiations are essential to ensure an advantageous transaction. At Nexdigm, we help you assess the business potential and focus on the underlying factors that lead to a successful acquisition. We help you define the objective and framework of the intended acquisition, identify an appropriate target and extensively negotiate commercial terms to maximize value. Our priority is to safeguard you by suggesting countermeasures to potential exposures while carefully evaluating the transaction structure. In doing so, due consideration is given to cultural, legal, commercial, tax, and exchange control aspects.
Divestitures
Identifying a suitable acquirer and effectively communicating the business potential is fundamental to maximize returns in a sale transaction. Our deal advisors prioritize your objective for sale or divestment while also considering the value synergies for the buyer to maximize closure probability and expedite the sale process. From evaluating the suitability of market conditions to validating the business rationale of the sale, we help you strategize what, how, and when to monetize. With an extensive team addressing commercial as well as taxation and regulatory matters, we assist you in meticulously structuring the transaction to eliminate probable risks.
Joint Venture
Synergies arising in a joint venture facilitates businesses as they expeditiously bridge the gaps that could impede their individual growth. Working in a joint venture, however, can be a complex feat. It is pertinent to identify a partner that best complements your requirements, and comprehensively lays down the foundation for the collaborative relationship to ensure its success.
Our deal advisory team assists you in defining your objectives for the joint venture and consequently identifying a suitable partner to integrate with your commercial and cultural requirements. Our holistic approach addresses regulatory as well as commercial matters that are crucial for the systematic execution of the transaction succeeded by a rewarding alliance. We focus on reducing future complexities in the joint venture by addressing critical aspects such as:
Defining the scope of the joint venture and creating a joint business plan
Arriving at the shareholding of the parties based on the value of contributions
Evaluating alternate structures for the execution of the joint venture
Assessing any adverse commercial/regulatory implications arising from the proposed venture
Defining the rights and responsibilities of the partners
Protecting your interests by negotiating favorable terms such as exit rights