Economic Analysis
Our team, led by Dr. R Shyam Khemani and in collaboration with major law firms, assists companies in navigating through case-specific reviews and filings before the Competition Commission of India (CCI). In order to get transactions properly evaluated and expeditiously approved, our team works closely with our client's legal representatives to prepare a 'competition assessment' brief that is filed with the CCI.
The competition assessment brief focuses on the following areas: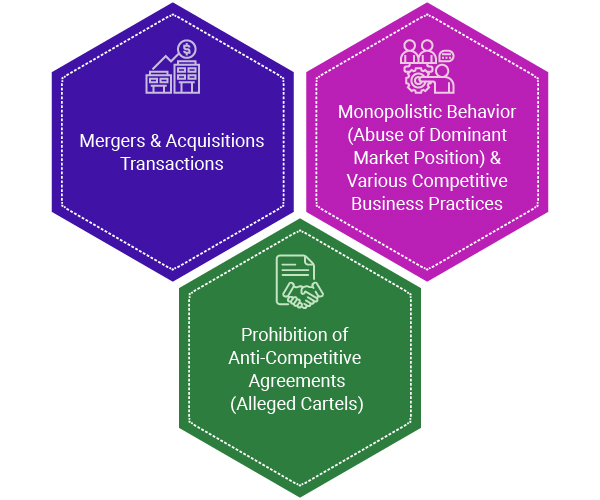 Our experience in competition analysis spans across industries, including energy/petro-industrial chemicals, information technology (IT), automotive vehicles and parts, cement, and professional sports, among others.
Mergers & Acquisitions
It is widely recognized that M&A transactions are an important mechanism for business expansion, industry/firm restructuring, and market entry. The 'combination provisions 'of the Competition Act, 2002 require M&A transactions above certain size thresholds (based on assets or turnover in or outside of India) to be reported for review and clearance by the CCI. A transaction may be void if it is likely to cause an 'appreciable adverse effect' on competition in the relevant market in India.
Employing the latest industrial organization methods, we present credible analyses of the nature and degree of competition prevailing in the relevant market, the business rationale for the acquisition, and whether or not the proposed transaction will adversely affect or increase competition. The team has prepared several competition impact briefs, and all the M&A transactions we have worked on have been cleared by the CCI well within 30 days, saving our clients significant monies in bridging financing and costs.
Prohibition of Anti-competitive Agreements
Under the Competition Act, agreements between enterprises that result in fixing of prices, restriction of production, supply, distribution, storage, acquisition, or control of goods, or provision of services that cause or are likely to cause an appreciable adverse effect on competition are strictly prohibited. The fines levied by the CCI in such cases can be financially significant – up to 10% of the enterprise's average turnover of the previous three years.
Unless there is evidence of overt meetings by businesses to engage in prohibited agreements and related practices, it is difficult to prove the cartelization of markets. Nonetheless, it must be noted that circumstantial 'evidence' such as parallel or similar pricing can be construed as being an illegal agreement.
At Nexdigm, we conduct rigorous economic analyses to assess whether or not the allegations with respect to cartelization of markets are plausible and credible, and then draw distinctions between competitive and anti-competitive business behavior. In this context, we analyze price patterns and variations, levels and dynamic changes in sales or market shares, 'facilitating devices' such as published price lists and contracts, and other relevant factors to ascertain if there is an alleged prohibited business arrangement.
Monopolistic Behavior and Other Business Practices
It is not illegal for an enterprise to be 'dominant' or account for a large share of the relevant market. Indeed, enterprises are often larger than their competitors because of being more efficient or supplying superior quality products and services at competitive prices. However, 'abuse' of one's dominant market position such as charging discriminatory prices, exclusionary behavior, tied selling, predatory pricing can constitute violations of the law. At the same time, 'dominant' enterprises can also become targets of complaints of alleged anti-competitive business practices by those who cannot compete effectively in the marketplace, or by industrial customers seeking to extract more favorable terms/conditions of sale and/or lower prices.
Given our extensive industrial experience and analytical capabilities, the team has prepared briefs on the 'competitive dynamics' of relevant markets where we analyze pricing and other constraints confronted by the alleged 'dominant' firm, the choice of alternative products and services from competing enterprises along with demand elasticity, the nature and extent of barriers to entry, and if such barriers are firm- or market-specific, economic or strategic, or primarily determined by government policies and regulations.