Greenfield & Brownfield
Global expansion is an imminent step for an enterprise's growth. Establishing a new business set-up on a different side of the globe has its own set of challenges on account of operational and regulatory differences among others. This makes partnering with experts, who have the right mix of local knowledge, experience and business acumen, essential and inevitable. At Nexdigm, we place ourselves at the foundation of your business expansion as you diversify your organization and amplify your geographical presence.
India's large domestic and outbound markets, as well as the pro-business policies, including market liberalization and government-sponsored incentives, have made it one of the top investment destinations in the world today. Its pool of natural resources and its geographical advantage also position it favorably as a springboard into Asia. The need for diversifying supply chains has resulted in several companies setting up their manufacturing or business presence within the country.
With our sound and proficient legal, financial, and regulatory advice, we ensure that your vision for expansion is met with minimal hassles, active mitigation support and within set budgets and timelines. Through our highly customizable services, we partner with our clients to be their eyes, ears, and hands on-ground.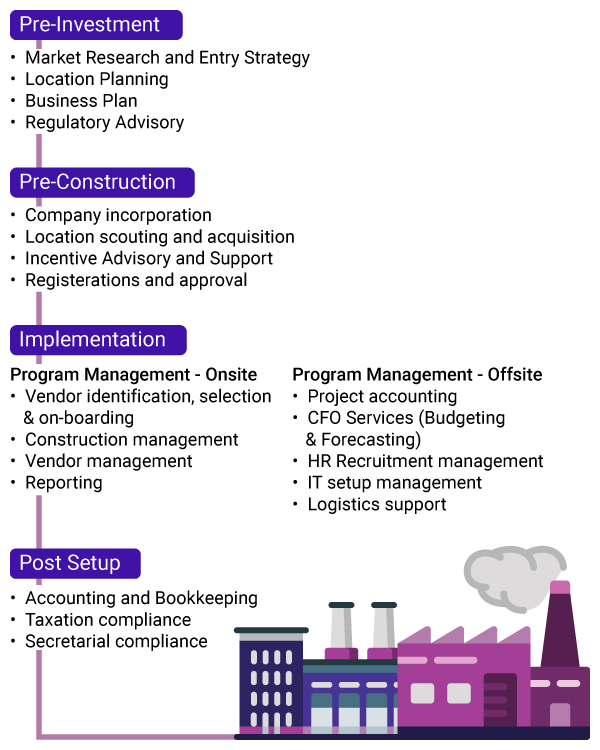 Business Feasibility Study: Pre-construction
As global uncertainties and local intricacies complicate a new market entry, Nexdigm helps companies across the world affirm their roots with our Business Feasibility Studies and Focused Market Research, along with Entry and Growth Strategies. We help clients in assessing the current market scenario and future market trends, benchmarking competition, mapping economic and customer trends, as well as regulatory aspects, so that they can grow sustainably.
Business Plan Support: Pre-construction
A business plan can create a vital first impression on investors and lenders. We assist clients in building an efficient, long-term business plan in line with their focus and goals. We look at all operational assumptions from the local lens and validate them basis tax laws, relevant costs, and other strategic considerations.
Incentives: Pre-construction
A lot of countries offer various incentives to new industrial investments and expansion of existing manufacturing units. These incentives are in the form of capital grants, exemptions, tax/cost reimbursements, electricity tariff reduction, and more. Our experienced team assists clients in identifying and analyzing incentives that may be available for the proposed setup. We also support clients in claiming the eligible incentives from the respective governmental authorities.
Incorporation of an entity: Pre-construction
Selecting the right form of entity has serious implications on the rights, growth potential, tax based compliances, and legal/financial liabilities. Our expert advisory teams help clients evaluate the form of entity that best suits the operational and administrative goals of the new setup.
Location Planning, Scouting, and Acquisition: Pre-construction
Identification of a suitable location for the set up of a new manufacturing/storage facility or office space is critical to the future of the business. It requires evaluation of several aspects including proximity to customers/suppliers, availability and cost of manpower, accessibility of electricity, water, etc., alongside the incentive, regulatory and taxation regimes in the area. We employ a thorough grading mechanism to arrive at a favorability score for each location option so that our clients can make the most appropriate choice. We also support in the acquisition of the preferred location through the required documentation, legal support and liaison with government authorities.
Registrations & Approvals: During Construction
A company is required to procure a host of approvals and registrations for a Greenfield setup. The registrations are broadly divided into two categories – Business Registrations and Factory Registrations. By helping clients obtain these registrations in a timely, stress-free fashion, we facilitate the smooth commencement of business operations in the new location.
Project Management Services: During Construction
Our project management services are designed to provide end-to-end functional support in all areas of the Greenfield setup to ensure its successful and timely completion. The Nexdigm advantage is that we project manage the operations as an extension of our service during the setup phase in the following categories.
Finance & Regulatory
This includes support in Capital Structuring, CFO services, Budgeting and Forecasting, Incentive Support, Bank Loan Syndication, Project Accounting, Tax and Secretarial compliances, and more.
On-site Support
This includes on-site team deployment for Vendor identification (Construction, MEP, PMC, Machinery Installation Company, etc.), liaising with various stakeholders, project monitoring and reporting of on-ground operations including aggregation of reporting from the PMC company.
Other Services Management
This includes supporting in machinery procurement, IT setup & Risk Advisory, HR recruitment and policy support, and more.
Advisory and On-going support: Post-Construction
We provide regulatory, legal, tax, and HR assistance along with project accounting support. Our other ongoing services include accounting, book-keeping, direct and indirect tax compliances, company secretarial services, audit and assurance services, and regular incentive evaluation.
We customize our services based on our client's requirements. We can help you at any stage of your entry plan. As a partner, we will be responsible for your tasks just like a trustee. We assign a dedicated team of multi-professional experts which helps reduce delays, facilitate unbiased reporting, provide local perspective and knowledge, and leverage our established ecosystem of associate stakeholders.
Nexdigm has helped establish several greenfield set ups across all major Indian states. Our structured and proactive approach helps clients ensure the smooth and timely completion of the project.