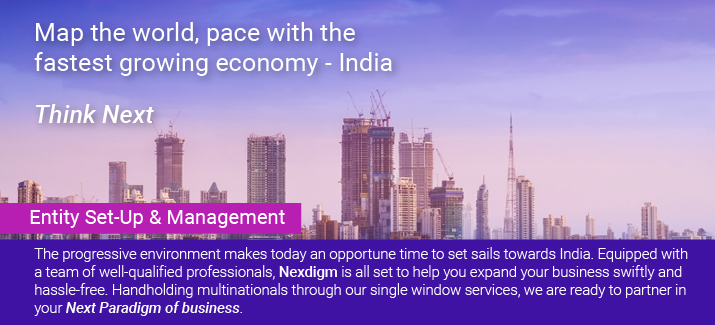 Corporate Services
As a fresh entrant in the Indian market, a host of compliances can dampen your enthusiasm for setting up an entity and starting a business. A multinational company needs to establish sound processes and replicate its international business practices while adhering to local requirements to truly achieve their investment objectives.
For this, you need expert and practical advice from professional partners who not only have local expertise but also a global outlook. At Nexdigm (SKP), our focus is to ease the burden for multinational companies in India by achieving the right balance between business needs and mitigating compliance risks.
Servicing clients from six metro cities in India and equipped with a team of professionals, robust processes, and rich experience of partnering with multinational companies, we are well-suited to be your trusted partner in India.
To know more about Nexdigm (SKP) Tricor, please click here.
Business Establishment
There are a few economies which are growing at a rapid pace, and one of them is India. With a considerable rise in the overall purchasing power of the population, as witnessed in the recent times, businesses from around the world are subsequently becoming interested in investing in India. The Indian demography is young, well-educated and employable. Apart from that, India is also home to some large pockets of significant natural resources. These factors together contribute to attracting the attention of foreign investors to take a keen interest in India.
Nexdigm (SKP) supports businesses from across the world to establish their presence in India. Nexdigm (SKP) handholds the business through the complete set-up process, and this phase guides the businesses through the various regulatory requirements to ensure a smooth set-up of their presence in India.
Our Services
Establishing the Entity in India
Obtaining various regulatory registrations
Support in opening a bank account
Carrying out compliances under FEMA for Investment in India
General advisory under Companies Act and FEMAInitial company law compliances
Pre-investment advisory
Finance, Accounting and Payroll
In the early stages of business growth, companies need to focus on their core business functions. Along with ensuring completion of statutory compliances, it is also crucial that the recording of information and provision of accurate financial data is done meticulously. A flexible solution is what companies need to manage their entire finance operation.
Our outsourced finance controlling services are designed to allow companies to focus on their business by taking complete ownership and management of the accounting and compliances. We offer a single point of contact for all compliances. Our professionals work closely with you as a partner to customize solutions based on your requirement
Accounting and Reporting
Bookkeeping, Accounting & Documentation
Cost Centre Accounting
Management Reporting
Year-End Reporting
Treasury/Payment Support
Providing accounting information for various tax/secretarial compliance
Finance Controlling
Setting-up Accounting Systems
Monitoring compliances, spotting compliance issues and assistance in mitigating risks
Migrating to an ERP platform
Acting as an interface between the client and other consultants
Periodic meetings/calls to discuss all the open problems, compliances, and management reports
General assistance to management in decision making
Corporate Compliances
All Corporates, which operate in India, have to carry out compliances under tax and regulatory laws. Some of these compliances are required to provide information to the government about the business carried out by the corporate. On the other hand, compliances under the tax laws are required to support the government in their revenue collection process.
Nexdigm (SKP) supports Corporates to be compliant with the various requirements under the tax and regulatory laws, by either carrying out such compliances for the Corporates or advising and monitoring/reviewing them. Nexdigm (SKP) takes on the responsibility of complying with the regulations and helps the Corporates to focus on their core business.
Our Services
Tax compliances
Withholding tax compliances
Support in Corporate tax payment
Preparation and filing of Corporate Tax returns
Advice on tax matters
Support in litigation and interaction with the Revenue Department of the Government
GST compliances
Preparation and filing of GST returns
Coordination and support in completion of GST audit
Advice on GST matters
Support in litigation and interaction with GST department
Transfer pricing compliances
Support in transfer pricing compliances
Advice on transfer pricing matters
Support in litigation and interaction with the Revenue Department of the Government
Company law compliances
Support in conducting of the board meeting
Assistance in doing of shareholders meeting (including annual meeting)
Help in maintaining registers as required by the law
Assist in the filing of Annual returns and financials
Support in carrying out situation based compliances like a change of directorship, change of registered office, allotment of shares, etc.
Support in proceedings about non-compliances of regulations.
FEMA compliances
Support in compliances concerning investment in the company
Help in compliances concerning the transfer of shares
Assistance in the filing of the annual form with Reserve Bank of India
CFO Services
Nexdigm (SKP)'s CFO services provide effective measures to minimize a company's risk of F&A function like non-compliances, non-availability of required information to management, lack of internal skill set, etc. As a trusted advisor we support businesses by offering timely insights, running a check on financial statements, cost optimization, assistance with planning strategy and implementation of projects as they occur. With our deep roots in assurance domain, we can help in professionally managing the auditors, timely completion of the audit and minimize the audit qualifications. Our team has an understanding of international GAAPs, which enables us to have a distinct and time-efficient approach. We not just help in implementing IFRS but also hand-hold the team post the implementation.
To know more about our CFO services, click here.
Client Login
You can now access your entity's important documents online by clicking here. Please contact your Service Manager at Nexdigm (SKP) in case you face any issues.