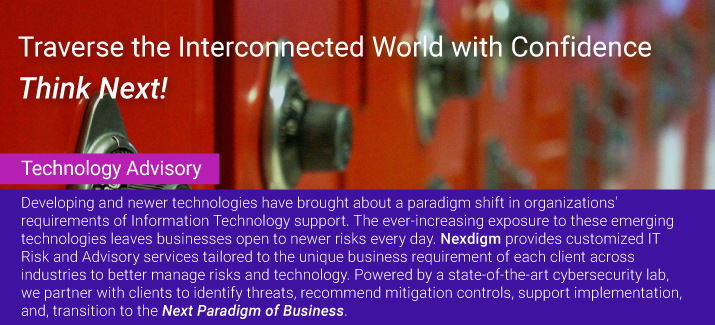 Technology Advisory
Technology has transformed the way business is conducted across the globe. The proximity to technology exposes organizations to newer risks every day. Therefore, it is unfortunate that technology is an enabler by default rather than by design in most companies. The competitive and highly connected business landscape, along with the urgency to leverage opportunities, has resulted in businesses ignoring the need to manage both processes and information better.
In this digital era, organizations always need to be prepared for a cyber-attack.The sensitive nature of data exposes it to threats from malware, ransomware, insider threats, outsourcing services, privacy breaches and more, leading to detrimental and long-lasting impacts in some cases. Worldwide lessons from data breaches have made it imperative for nations to take steps by forming stringent laws and strict compliances to implement them. However, being protected from IT threats takes much more than just being compliant
The technology risk advisory services at Nexdigm (SKP) help businesses across industries to safeguard their data and use technology as a tool to achieve excellence in business delivery by reducing risk and optimizing returns. We understand that each business's requirements are unique, and invest time in customizing solutions for them
Our partner-led approach lets you concentrate on your core business functions, while we handle your technology concerns. With a team of multidisciplinary professionals assisting you in identifying and mitigating the ever-changing landscape of emerging threats, we help you traverse business uncertainty with utmost confidence!
To know further on our Cyber Security offerings Click here