Profile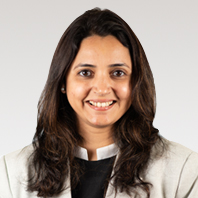 Alpana Shirgaonkar
Senior Executive Director – Business Process Management
Executive Director – Nexdigm
Board Member – Nexdigm sp. z o.o (Poland)
With nearly two decades of experience, Alpana leads operations of the Business Process Management (BPM) vertical at Nexdigm. She plays a central role in managing and expanding our Finance & Accounting and Contract Management services.
Alpana specializes in assessing and understanding client needs across cultures, geographies, and industries. Her ability to design customized transition plans, implement them, and handhold clients through the entire project has led her to build strong and lasting relationships with clients. Alpana is passionate about organizational development and has led many improvement projects.
Alpana frequently contributes to industry thought leadership as a speaker for topics such as business and digital transformation, business process and continuity management, as well as Global Capability Centers (GCCs) and Centers of Excellence (CoEs).
Alpana is dual-qualified as a Certified Public Accountant (CPA) from the Georgia State Board of Accountancy (USA) and as a Chartered Accountant (India). Alpana holds a Bachelor's degree in Commerce from Brihan Maharashtra College of Commerce (India).
On a personal front, Alpana enjoys the performing arts and takes a keen interest in Indian classical singing.