Finance & Accounting Management
Increasingly, when every function in the business is expected to deliver tangible outcomes and support business, in-house finance and accounting (F&A) teams that are caught up with transaction management struggle to meet these expectations. They often spend significant amounts of time:
coordinating with procurement teams on vendor issues
responding to sales teams on invoice and collection issues
assuring the meeting of numerous deadlines for tax compliances, filings with corporate regulators, month-end and year-end close schedules, internal and external audits, management reporting, and so much more.
Furthermore, finding the right people and retaining them is a challenge in itself. This is compounded by the relentless pressure to manage headcount while coping with increasing transaction volumes, complexity, and compliance requirements.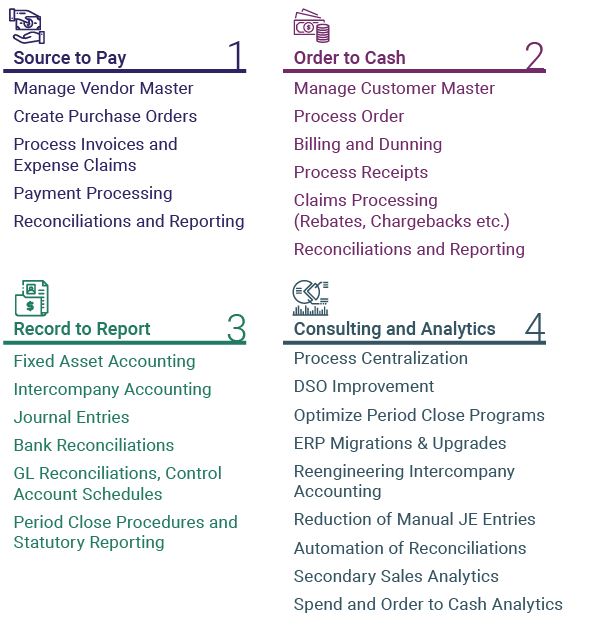 We provide you with a full range of finance and accounting processes. With us as your delivery partner, you have an extended team that has the expertise, agility, flexibility, and service orientation to meet your dynamic needs. Free from day to day worries of transactions management, resourcing, and people management, you can turn your energy, time and attention to add value to the business, keeping tight control over finances, and ensuring compliance with regulatory obligations.
When we partner with you, we take responsibility for your process and provide a fully managed service. What is non-core for your business is our core business. Our passion for continual improvement ensures that your processes remain efficient and effective. We use technology intelligently so that processes are scalable, and headcount does not increase linearly with transaction volumes. Processes and delivery teams remain lean.
Our project governance framework ensures that you have complete visibility of the things that matter, i.e., the key project metrics and outcomes, thus giving you all the control you need, without having to micro-manage.