CFO Services
The inherently evolving nature of today's business ecosystem has encouraged CFOs to work with consultants to minimize their F&A risk of non-compliances, unavailability of information, lack of internal skill set, attrition of key employees, etc.
As your partner, we don't just play an advisory role but take ownership of the accounting and finance functions including ERP implementation, legacy accounting, and audit support. Our 50+ years of experience in F&A function has let us build a robust ecosystem with best industry practices. Our partner-led approach and in-depth domain knowledge benefits our clients in minimizing the risks associated with F&A function
Our specialized team can help you in any/all of the needs: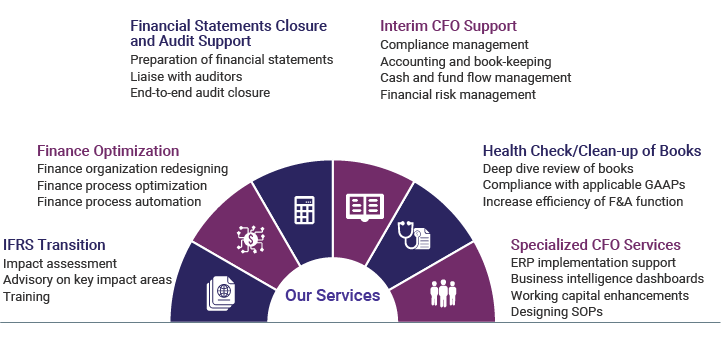 Finance Controllership
More often than not, companies lack a dedicated finance controller or a CFO. This could be on account of various reasons, such as setting up a business in a new location (leaving no time to focus on the business' financial aspects), or attrition of key employees and senior management, or maybe an evolving accounting and compliance landscape creating a dearth for skilled financial management.
Our dedicated team helps you ensure continued reporting and compliance by handling your daily F&A activities. We handle the entire range of F&A services, including accounting & bookkeeping, banking support, audit closure support, representing the F&A function to the board of directors or other parties, financial decision-making, compliance & regulatory filing, finance process optimization, and internal control review.
Health Check/Clean-up of Books
Inefficient practices adopted by the F&A staff, over time, leads to disordered books. This undermines the reliability of financial statements and leads to non-compliance with existing laws.
Our team can help you perform a comprehensive health check of your books and clean up your records. A typical book clean-up procedure can include in-depth review of books, inter-company reconciliations, compliance checks, fixed asset verification, and other tasks.
Financial Statements Closure & Audit support
The modern-day enterprise is finding it increasingly difficult to handle audits and auditors. These difficulties may stem from either the employees' lack of expertise in managing audits or the continually expanding regulations.
Deeply rooted in the assurance domain, our team can help you manage auditors professionally, complete audits in time, and minimize audit qualifications. Audit support typically involves preparing financial statements in accordance with applicable GAAP (IFRS, Ind AS, US GAAP, or Indian GAAP), liaising with auditors, preparing audit schedules, advising on audit remarks or qualifications, and representation to the board of directors or audit committee.
IFRS Transition
MNCs are increasingly transitioning towards IFRS from other GAAPs. This shift requires these businesses to be circumspect of many aspects which may fall beyond the purview of the finance function.
We can guide you through this transition by analyzing the impact of the convergence, supporting the decisions made on accounting policy choices, preparing financial statements (including the opening balance sheet), implementing new reporting processes, and making changes to the ERP.
ERP Implementation Support
Implementing new ERP in the existing environment or modifying the existing ERP can be a challenging task for established entities. Major obstacles in this process include a lack of expertise or discrepancies in the requirements framed for the ERP consultants.
We can help you select an ERP in accordance with your business requirements, identify business needs for the ERP technical consultant, list finance and compliance requirements, support data migration, perform user acceptance testing, ensure smooth go-live, conduct post-implementation review, and also provide hyper care and employee training.
Our Credentials
| | | | | |
| --- | --- | --- | --- | --- |
| Supported implementation of ERP system for an Indian subsidiary of multinational company in record time, including set up of an accounting and compliance function inline with the global policies, initializing an accounting software, preparation and finalizing of financial statements and MIS. | | Successfully handled the India finance operations of the greenfield set up for one of the largest hygiene companies in Europe. We helped setting up of accounting and finance function, design and adopt best policies and practices, compliance management, and capital requirement management. | | Acted as the interim CFO of an Indian arm of one of the largest reinsurance company across the globe to handle reporting deadlines, implementation of system, liaise with the auditors and handle day-to-day operations. |