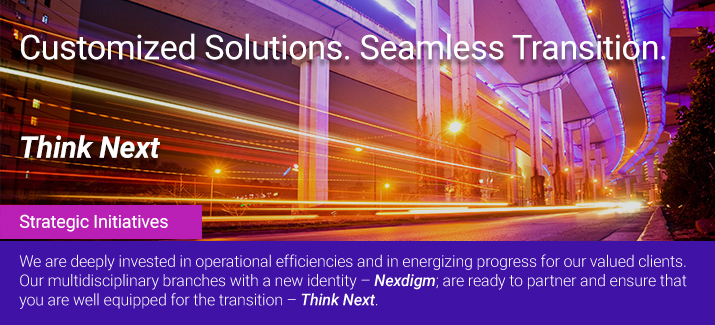 Strategic Initiatives
Nexdigm (SKP)'s Strategic Initiatives practice supports companies undertaking major growth or expansion projects. While organizations are typically well-geared to manage the day-to-day aspects of business efficiently, major new strategic initiatives tend to be complex projects with multiple work streams involved. Our team helps clients maintain focus on Business-as-Usual functions by dexterously supporting the unique and complex task flows that accompany Greenfield integration or Post-Merger Integration. Our holistic solutions cover specialized functions, including Commercial, Technical, Manufacturing, Supply Chain, Finance, Regulatory, and Information Technology aspects.
Our end-to-end support encompasses research, opportunity evaluation, planning, and execution of Strategic Initiatives.
Project Management
Apart from day-to-day operations, businesses have to deal with many business situations that bring their own sets of challenges and require different execution skills. These could include greenfield set-ups, restructuring, business expansion, mergers & acquisitions, post-merger integration, ERP implementation, process optimization, winding up/downsizing, and other organizational changes.
The risks associated with these situations are diverse and, at times, exponentially larger than routine operations. Such projects require cross-functional teams, consultants, and even different companies on either side of the transaction to collaborate. These stakeholders would have their own agendas, priorities, and action plans. The success of such transactions depends on the coordination across teams for identifying, escalating, and resolving issues while ensuring there is timely and proper communication. Quick, coherent, and unbiased on-ground reporting to bring out relevant issues and enable informed decision-making from the top management is critical. An efficient solution is to have an experienced, multidisciplinary Project Management team with the experience of resolving issues common to such situations.
Our dedicated team of experts at Nexdigm (SKP) has experience in managing a variety of large transactions/projects. We understand the issues and risks associated with these situations and know how to mitigate them. We have the relevant experience for every step of the lifecycle and have developed tools and templates to ensure optimal execution of the project. We are also supported by an experienced multidisciplinary team of consultants and experts who provide their perspective on the varied tax, legal, operational, financial, and strategic aspects.
Being well-versed with the various facets of project management, we can provide step-by-step assistance throughout the transaction, right from strategizing to executing and closing the transaction. Our strategic tasks include creating a roadmap, execution plan, budget, and timeline while execution-related tasks include monitoring, tracking, reporting, identifying and communicating risks and issues, and interacting with consultants. If the need arises, we are prepared to fill any gaps in terms of consulting or execution at any point in time during the project.
Our project management experience spans across sectors including fast-moving consumer goods (FMCG), wealth management, and mining, among others, for business situations such as greenfield set-ups, mergers & acquisitions, post-merger integration and winding up.
To know more about our project management services, click here.
Greenfield
We provide end-to-end support to companies establishing a greenfield set-up in India. Our offerings include but are not limited to:
Location Planning: Identify and evaluate potential locations across India for setting up the proposed unit – manufacturing facility, office space, etc. by conducting a thorough evaluation based on multiple parameters.
Land/Facility Scouting: We help you identify suitable options in a given city or locality for office space, empty land, warehouse, or factory shed based on your specific requirements.
Land Allotment: We provide end-to-end support in getting land from government agencies. This includes preparing all the required documentation and regular follow-ups with government agencies for smooth and prompt completion of the process.
Procurement of Necessary Approvals: A company is required to procure a host of approvals and registrations following land allotment. We help you in procuring all the necessary approvals in order to reduce the time between land acquisition and the start of commercial activities.
Project Management Support: Nexdigm (SKP)'s project management support includes vendor identification, liaising with various stakeholders, project monitoring, and reporting in order to ensure the project is completed successfully and on time.

We have helped establish several greenfield set-ups across all major Indian states. Our structured and proactive approach helps clients ensure the smooth and timely completion of the project.
Market Research and Strategy
We help create an efficient market entry strategy for India, helping you reduce costs by preventing mistakes from the very start of your expansion plan.
We undertake specific B2B (business-to-business) market research assignments for our clients across industry sectors. Our cross-functional teams study the business and regulatory scenario to give you a clear understanding of the market size, business models, competitive landscape, and regulatory requirements. Thereafter, we provide a customized entry strategy depending on market opportunities and your organizational needs. We leverage our extensive knowledge of India to offer solutions on the supply chain, pricing structures, purchase processes/buying behavior, and go-to-market strategies for our clients.
Our market research examines factors that would affect your plan, including:
Market structure and size
Growth rate (historical and projected)
Available product/service offerings
Key customers and customer segmentation
Market trends – drivers and challenges
Regulatory and tax aspects
Competition mapping

We have successfully completed extensive market research assignments for companies across sectors, including pharmaceutical packaging, building materials, glass manufacturing, wastewater treatment, and aluminium tubing.
Following market research, we evaluate all feasible India-entry options and recommend the most appropriate mode of entry and business model. Based on our value-chain analysis and evaluation, we select the best possible alternatives to ensure you choose a strategy that best suits your company. We then recommend a phase-wise India entry/expansion plan, a business model and tax-efficient value chain, target market, and mode of entry/expansion.